What is INFINITI Premium Care?
INFINITI Premium Care is a meticulously designed maintenance plan aimed at keeping your prized INFINITI vehicle in impeccable condition. This all-inclusive program covers a range of routine maintenance services, ensuring that your vehicle performs at its best. What sets this plan apart is its unique integration into the sale price of every New INFINITI vehicle, making it a seamless part of your ownership experience, whether you're leasing or purchasing outright.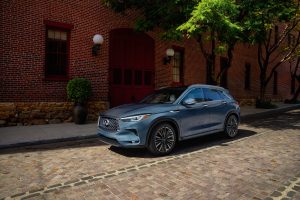 Unveiling the Integrated Maintenance Plan - INFINITI of Syracuse
This comprehensive plan extends its benefits for up to 3 years following your vehicle purchase. During this period, you can expect a host of services that guarantee your INFINITI remains a pinnacle of engineering excellence. These services include:
Oil Changes and Tire Rotations: Regular oil changes and tire rotations are the foundation of a well-maintained vehicle, ensuring optimal performance and fuel efficiency.
Inspections: Thorough inspections by certified professionals help detect and address any potential issues before they escalate, saving you time and money in the long run.
Brake Fluid Change: Safe driving requires well-maintained brakes. The INFINITI Premium Care plan covers essential brake fluid changes to keep your vehicle's stopping power in top-notch condition.
In-Cabin Air Filter Replacements: Breathe in the luxury of clean and fresh cabin air. The plan includes regular air filter replacements to maintain a comfortable and healthy interior environment.
Tire Road Hazard Protection: Unexpected road hazards can be a real headache. With INFINITI Premium Care, you're covered for tire road hazards, ensuring your tires are ready to conquer any terrain.
Car Rental Assistance: Some models may even come with the added perk of car rental assistance, keeping you on the move even when your INFINITI is undergoing maintenance.
Additionally, select retailers may complement INFINITI Premium Care with the luxurious INFINITI Valet service, allowing the ultimate convenience of vehicle pickup and delivery from your home or office.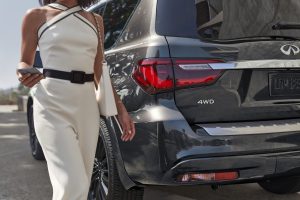 The benefits of INFINITI Premium Care extend beyond the mechanical realm. By taking care of your INFINITI with ease and convenience, you'll have more time to focus on the joys of owning a luxury vehicle. Whether it's the thrill of driving, the admiring glances you receive, or the pure comfort of your well-maintained interior, this program enhances your overall ownership experience. To schedule your next service appointment - Click Here
INFINITI Premium Care: More Than Just Maintenance
INFINITI's commitment to customer satisfaction doesn't stop at regular maintenance. This plan is designed to ensure that every aspect of your ownership journey is elevated. Through INFINITI Premium Care, you can rest assured that your investment is protected, your driving experience is optimized, and your relationship with your vehicle is strengthened.
The INFINITI Difference
So, what sets INFINITI Premium Care apart from other maintenance plans in the market? It's the seamless integration into the sale price, the comprehensive coverage tailored to your vehicle's needs, and the commitment to providing an unparalleled ownership experience that truly distinguish this program.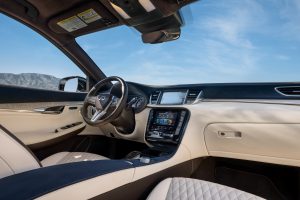 Making the Most of INFINITI Premium Care
While INFINITI Premium Care offers an array of benefits, it's essential to be aware of a few key details. The plan covers all 2023 INFINITI SUVs and sedans, including models like the INFINITI QX50, INFINITI QX55, INFINITI QX60, INFINITI QX80, INFINITI Q50, and INFINITI Q60. The coverage lasts for 3 years from the date of vehicle purchase, ensuring you have ample time to enjoy worry-free driving.
In conclusion, INFINITI Premium Care is more than just a maintenance plan – it's a commitment to excellence, convenience, and luxury. With a focus on enhancing your ownership experience and ensuring your INFINITI remains a symbol of sophistication on the road, this integrated maintenance plan sets new standards for customer satisfaction. To learn more visit INFINITI of Syracuse or Call Us at 315-471-3979.